I believe in miracles. And, right now, I need one.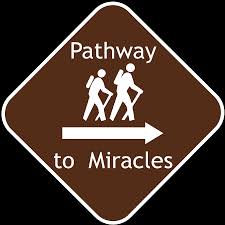 Have you ever been to that point where you need divine intervention? I mean you've exhausted your own efforts. You've listened to the suggestions of friends and family seemingly to no avail.
The connections that you hoped would materialize didn't happen.
The job for which you seemed perfectly qualified went to someone else.
Or maybe, the windfall of money that could have turned things around for you just never fell.
The spouse that you hoped would change his/her ways seems even more intent to spiral out of control.
A wayward child has gotten in trouble and you've exhausted your resources to intervene.
Where is the miracle God?
It's agonizing.
Like a boxer cornered against a relentless foe, another hit comes before I can even recover from the last one. Hits to the body. Blows to the head. Jolts to the chin. Unrelenting…
Despite your efforts to stay positive you feel pummeled. Things just won't seem to go your way. Makes you want to scream or even cry. Well, maybe both.
Why don't things seem to be going your way? Great doors of opportunity seem to open for others. Why not you?
Sometimes, not all the time, but sometimes it just seems unfair if I really allowed myself to wallow in self-pity.
Have you, like me, ever cried, "when is it my turn?"
Yes, I feel selfish admitting that. But, it's true.
Ever go down the mental checklist to survey whether you've omitted something that might explain this season that feels like the wilderness?
Have I put forth my best effort here? Check.
Have I stayed consistent? Check
Have I helped others? Check
Have I stayed prayerful? Check
Have I been obedient to God's direction? Check — well I try
What am I missing?
I know miracles occur. For my entire life I've read the biblical accounts of miracles. There are miracles of childbirth to the barren as with Sarah and Hannah. There are miracles controlling the natural elements like Moses and the Red Sea or Joshua and the sun that stood still. And, of course the miracles of Jesus are legendary—from the turning of water into wine or the feeding of five thousand with a few pieces of fish and bread or many accounts of healing physical infirmities of the blind, lepers, possessed, and many more.
So, there is no question in my mind that miracles happen. But, my understanding of miracles isn't just what I've read or heard about. In fact, I've experienced them myself.
Yes. My own miracles, three supernatural interventions by God—phenomena that simply cannot be explained by the rational.
The first miracle: Science vs. God
For some reason, we couldn't get pregnant. We tried and tried. We waited and waited. Nothing.
It had been six years since our son, Quilan, had been born. And, we desperately wanted to have another child—hopefully a girl to complete our pair.
But, what we had instead was anxiety.
As we sat in front of the OB/GYN one afternoon we began to understand the problem—at least from a physiological perspective. As it turns out, birth control pills had masked the problem—causing medication induced menstrual cycles. My wife, Dalia, was actually in premature menopause with follicle stimulating hormone levels that meant getting pregnant again was impossible.
How could this be? We were still too young to not be able to have more children.
What do we do now? We cried.
We decided to bombard heaven with prayer. We prayed. We asked our families to pray. We asked practically every close friend to pray. We solicited prayers from our church.
We needed a miracle. Please pray for a miracle.
In March of 1991, we were back in the doctor's office as he tried to explain what was scientifically impossible. My wife was pregnant.
On December 30th of that year our dear daughter, Kyrsten, was born. We were overwhelmed with joy.
We call her a miracle.
The second miracle: Which Coast God?
It was a weekday evening at a church revival service at Greater Mt. Calvary Holy Church, the large church that I attended in Washington D.C. This particular evening I was sitting on the front row as was required by my position as a deacon. I was tired after a long day at work and then a 45 minute drive from the suburbs where I lived to my inner city church. Honestly, I really didn't feel like being there. But, there was a revival going on with a guest speaker from Portland Oregon.
After the typical praise and worship portion of the service and the introduction of the speaker, she came to the podium—full of Spirit-led vitality. Hundreds of us were standing with her as she encouraged our praise offering to the Lord.
And then it happened.
She walked down from the pulpit. She walked directly to me (remember I'm on the front row) out of the many hundreds of people in the sanctuary that night. She dropped her hand holding the microphone down to her side. And, then this complete stranger said directly to me "I don't know what this means. But, God told me to come and tell you to go. He said you would understand.  He says that you are trying to make the decision on whether to go or not. And, he says for you to go. Do you understand?"
I was mesmerized and stunned. How can this be happening? There are all these people around. I don't know this lady. How can she be talking directly to me right now?
But, yes I understood. I understood perfectly.
My wife and I had been discussing the idea of moving from Maryland to California for me to attend Fuller Theological Seminary to pursue a graduate degree in Marriage and Family Therapy.
But, the questions were paralyzing. How could we move 3000 miles away on the West Coast? How could we leave all of our family behind especially when we had no friends there? What about our good paying jobs that we would be leaving? How could I do work and school full time? How would it impact our children?
As the months rolled on the decision got no easier. Well, not until that night with a stranger and God. At that point, the decision was made. I needed direction. And, God answered. Through a perfect stranger, God said "Go". It was a miracle to propel me towards my purpose. None of the other questions were answered that night. Those answers would come later.
But, that night the direction was miraculously settled.
The third miracle: Our Caribbean Encounter
It was our first trip to the Bahamas. We were excited to experience seven days of the resort life after finishing the first year of my doctorate work and Dalia's challenging year on a new pressure-ridden job. Unfortunately, upon arriving at the Nassau destination, our hotel room was not ready.
As we lounged in the lobby killing time, I decided to go for a stroll around the grounds just to check things out—getting a lay of the land.
One of the first rooms I encountered was an activity room replete with excursion brochures and event schedules.
When I first entered the room I noticed a concierge who was speaking with a couple. As I browsed the pamphlets, I heard their conversation ending and the couple exiting the room.
The concierge approached me in a very friendly manner and asked if he could help. After explaining that my wife was in the lounge and we were just waiting for our room assignment, he asked me to go get my wife. OK. But why?
The rest of what happened was inexplicable.
After returning to the room with my wife this complete stranger who I had only met minutes earlier began to recount several highlights of our lives—including God's plan for us to minister to marriages and families. He proceeded to not only describe Dalia and my personality differences and concerns but he also described our children by gender (who we had not even mentioned to him). For each child, he gave us instruction on their talent and the parenting challenge we would face.
For nearly thirty minutes he affirmed the ultimate impact of our ministry. He  gave encouragement through what would be highs and lows of our parenting. Through the Lord's leading, he inspired our path essentially with a message to stay focused, God is pleased, and be prepared to fight for your passions.
During that entire time not one guest entered that room at this bustling resort hotel.
Dalia and I were speechless. Literally. How could he know all of this about us? How did he know that about our children? There were plenty of questions. But, one thing was clear. We had come to the Bahamas to find rest from a grueling year.  But, what we found was divine and life-giving.
The Proverbs 3 Formula
So you see why I believe so strongly in miracles. I've been blessed beyond my wildest imagination to experience them first hand—sometimes when I passionately prayed and other times when I needed to know if our path was true. Miracles aren't just biblical stories to me.
Some people say "you make your own miracles". I don't really see it like that.  In Matthew chapter 16 a group of leaders (Pharisees and Sadducees) thought they could demand that Jesus show them a miracle. Jesus called them evil and adulterous and then turned away from them.
God acts when and how he pleases.
But, I do believe that because God unconditionally cares about his children that He sometimes intervenes supernaturally in our affairs. And, well, sometimes He doesn't.
God isn't a vending machine for miracles. No. You can't follow certain steps or place demands on God to get your own personalized miracle.
But, yes, I mentioned earlier in this post that I need a miracle.
I'm looking for God to move—to open a door that I've been yearning for years. But, this year I'm believing it will happen, miraculously. I just believe it.
So, what do you do when you need divine intervention?
Well, here is what God has placed in my spirit in response to my latest miracle request—a three-step formula captured in Proverbs 3:5-6 for getting God's supernatural direction.
It reads this way, "Trust in the Lord with all thine heart; and lean not on your own understanding. In all thy ways acknowledge him, and he shall direct thy paths."
God's word to me is stop worrying about the miracle and focus on my direction. As I traverse the three-steps in the Proverbs 3 formula, God will give me the direction along my path.
Step 1: Trust God with all my heart
First, I need to trust God with all my heart. This first step addresses the emotion of trusting God. I'm an analytical person who tries to plan as much as possible. I naturally want to perform my way to success. I feel emotionally secure when this happens.
There isn't anything inherently wrong with this. But, do I trust God with all my heart? Can I cast my cares and worries on him?
Honestly, I struggle with this a lot of time. I have to truly believe in my heart that I can trust God with the outcomes in my life. I have to believe that God doesn't need my help. At the same time I have to do my best to reflect his best. It's tough. But, I believe.
Step 2: Lean not on my own understanding
Second, I have to get out of my head. This command deals with the psychology of trusting God. God's kingdom is not of this world. In Isaiah 55:8 God says that "for my thoughts are not your thoughts, neither are your ways my ways". I don't understand why God has let me struggle through this situation for so many years. I don't get why he hasn't provided my way out. I've done my best to follow his voice. So, why do I feel ignored at times?
Well, the answer is that I don't understand what is really going on. I can only partially glimpse what God is doing in my life, the lives of my family, and the journeys of those with whom I interact. I cannot see the big picture. So, I have to force myself to trust him my attitudes and beliefs to him when it doesn't make sense to me. Lord, I don't get it. But, I believe.
Step 3: Acknowledge God in all my ways
Third, I have to stay focused on what truly matters, relationship with Him and others. This last step in the formula deals with the relational dimension of trusting God.
I was created to connect people to Christ–influencing people (including myself) to see God in the details and trajectory of our lives. You were too.
I struggle when I focus too much on me. How do I expand my platform? How do I find my open door? How can I build my business? Where is my miracle? These questions may be important. But, they must all be considered in the context of what I am doing for Christ.
Only what you do for Christ will last. That is what I believe.
I've asked God for a miracle. But, he has told me to stop with the checklist. Just follow the Proverbs 3 formula and trust Him emotionally, psychologically, and relationally to direct my path. The miracles will come or not as He so directs.
Then, God reminded me that I've had far more than three miracles if I really think about the everyday blessings that he has bestowed upon me and my family.
In closing, God said "Be Thankful".
Thank you God. I believe you are directing my path. Just help my unbelief.
What miracles have gone done in your life?
How might the Proverbs 3 formula impact your path?